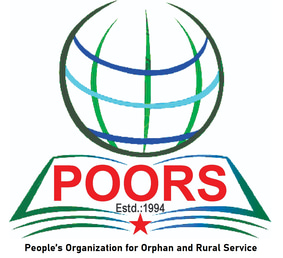 About T

h

e Organizati

o

n:

People's Organization for Orphan and Rural Service (POORS) is a non-profit community based organization was registered as a formal organization on 13 March 1996 -97 under Societies Registration Act XXI of 1860 bearing its registration No: PBN-2167 / 358 with an ultimate goal of self-reliance of the most disadvantaged communities. POORS was founded in 1995 by Mr. Antaryami Digal with a group of passionate and dedicated creative problem-solvers who seek to transform the lives of those in poverty with a vision for bringing holistic, sustainable solutions to poverty in the remote tribal districts including urban slums.

At present, POORS is active in 4 districts i.e. Kandhamal, Kalahandi, Bolagiri, and Khordha of Odisha state. Its long and arduous journey of over 25 years, POORS has laid down several milestones and supplementing efforts of the government for the upliftment of rural poor excluded and marginalized communities. Each passing year has witnessed some new initiatives and innovations.

POORS works towards empowerment of the disadvantaged groups coupled with livelihood development, promotion of viable microenterprise, Natural Resource Management, Forest and Biodiversity conservation, agriculture and allied activities, addressing issues related to Water, Sanitation, Health, Education, Migration, trafficking including child labour, child rights and child protection. POORS aspires to improve the living conditions of the poor and marginalized by adopting strategies through community initiative, participation and sensitization.
POORS is committed to bring about positive changes in the quality of lives of the tribal communities and deprived people. Income and employment generation is a continuous process of bringing positive change in the socio-economic status of all community members, including the marginalized people integrating rights and entitlements through direct community participation.